My Blog
Posts for tag: cosmetic dentistry
By Gentle Dentistry
February 17, 2013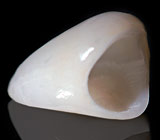 A dental crown is a tooth-shaped "cap" or cover that we place over a tooth that is badly damaged from trauma or decay to restore its shape, strength, size and functionality. We also use them for cosmetic reasons to improve a tooth's appearance with natural, life-like results. Crowns are generally handcrafted by dental laboratory technicians using high-quality dental porcelains (ceramic materials) that are made to fit on precise replicas (molds) of the prepared teeth. In our office, we generally make temporary crowns to protect the teeth to keep them comfortable and functional while the permanent crown(s) is being made. And once a crown is placed (cemented into position), it fully encases the entire visible portion of the tooth that lies at and above the gum line.
When Are They Necessary?
There are many reasons a crown may be needed. Some of these include:
To repair a tooth that is worn down, broken or badly damaged by decay or injury.
To restore a tooth so severely damaged by decay that the tooth's structure is no longer intact enough to place a filling or where a filling can't restore the tooth to its former strength.
To protect a tooth that has minor cracks or fractures from further damage.
To create a bridge to replace a missing tooth, in which the teeth on either side, known as abutments, must be "crowned" to attach to the "pontic" (from the French word, "pont" that means bridge).
To create the visible part of the tooth that sits atop a dental implant.
To improve the appearance of a tooth providing a more appealing shape and color.
To learn more on this topic, read the Dear Doctor article, "Porcelain Crowns & Veneers." You can also contact us to discuss your questions or to schedule a consultation.
By Gentle Dentistry
January 15, 2013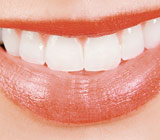 When you have your teeth bleached in a dental office, the results almost seem like magic. Let's push aside the magician's cape and see what is really happening in professionally-applied, in-office tooth whitening.
How do teeth become discolored?
A tooth's enamel covering is mostly composed of mineral crystals. At a microscopic level, you can see a framework or matrix of organic (living) matter interspersed between the crystals of enamel creating a very irregular surface capable of retaining stains. Chromagenic (color generating) organic compounds can become part of this organic matrix resulting in tooth staining. They can be bleached without affecting the mineral structure of the tooth's enamel.
As people get older and their teeth wear, the enamel loses its youthful translucency and the underlying layer, called dentin, thickens and becomes more yellow. Such changes to the actual tooth structure are called intrinsic staining. Other causes of intrinsic discoloration are exposure to high levels of fluoride or tetracycline antibiotic administration during childhood, tooth decay, or root canal problems, among others. Discoloration can also be caused by external staining from certain foods, drinks, or tobacco products. Such surface stains are called extrinsic staining.
Behind the Magic
Materials used for tooth bleaching are hydrogen peroxide and carbamide peroxide. Peroxides are commonly used as bleach, and you may have seen them used as hair bleaches, for example. Hydrogen peroxide is a strong oxidizing agent that attacks the organic molecules responsible for tooth discoloration, bleaching them until they lose their color. Carbamide peroxide also contains urea, which is a compound that permits the peroxide to remain in contact with the teeth for longer amounts of time without harming them.
Often called power bleaching, the in-office technique uses a high concentration of peroxide solution (35-45% hydrogen peroxide), placed directly on the teeth in the form of a gel. A heat or light source may enhance the peroxide release. The gel is applied with trays custom fitted to your mouth, and specific barriers are applied to protect sensitive gum tissue from the solution. Results show teeth becoming up to ten shades lighter in about an hour.
In-office bleaching under the supervision of my staff and me is recommended if you have severely stained teeth, and particularly if you are about to have veneers or crowns made. It's a way to rediscover the pearly translucency of your youthful smile.
Contact us today to schedule an appointment to discuss your questions about tooth bleaching. You can also learn more by reading the Dear Doctor magazine article "Teeth Whitening."
By Gentle Dentistry
December 26, 2012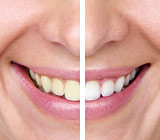 Time to tune up the brightness on your teeth? Here are six modern methods of whitening and brightening your smile.
In-office "power" bleaching under the supervision of my staff and me is recommended if your teeth are badly stained, or if you are about to have veneers or crowns made. It's quick, safe, and effective. Gels containing high concentrations of bleach are applied to your teeth in our office, often with the enhancement by heat and light to make them act faster. Results show teeth becoming up to ten shades lighter in about an hour.
"Take home" whitening solutions and trays are designed to fit your mouth and can also be provided by my office. The technique is easy to perform and is less expensive than in-office power whitening system, although it takes longer to see the same results. General recommendations are for 30 minute applications twice a day. You can usually see a change after two to four sessions. This requires patience, because it is important not to exceed recommended exposure in order to avoid damage to your teeth, gums, and the inside skin of your mouth. After two weeks of use, teeth can be expected to be about eight shades lighter.
Whitening strips look like clear Band-Aids that are applied to the tooth surfaces. They should be worn twice a day for 30 minutes each time, for seven days. On average, they claim to lighten teeth more than three shades. They take about two weeks to work at 30 minutes per day.
"Paint on" or "Brush on" whitening formulas are also available. These are gels that are painted onto the teeth every night at bedtime, for two weeks. Some claim that this line of home whitening can whiten teeth two to five shades. These gels may make your mouth feel goopy, but they are relatively inexpensive. Some gels come with a small brush to scrub them onto the teeth.
Over-the-counter "mouth-tray" whiteners use mouth trays that are not designed for your particular mouth, so they may not fit well and may be messy or uncomfortable. They are filled with gel and worn 45 minutes a day for one week. On average, teeth become two shades whiter.
Whitening gum is a relatively new product. It requires chewing two pieces for at least 20 minutes, four times a day, to see an effect.
Contact us today to schedule an appointment to discuss your questions about tooth bleaching. You can also learn more by reading the Dear Doctor magazine article "Teeth Whitening."